Interim
1978–1980
| | |
| --- | --- |
| | SVG NEEDED |
Olympics
1980–1984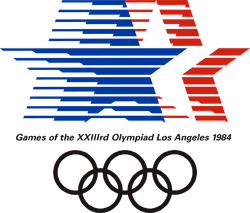 | | |
| --- | --- |
| Designer:  | Robert Miles Runyan |
On 4 August 1980, the emblem logo for the Games was introduced. Officially known as "Stars in Motion", it featured the three colors of the United States arranged in three interlocking stars with thirteen stripes. The logo was designed by Robert Miles Runyan.
Mascot
| | |
| --- | --- |
| | SVG NEEDED |
| | |
| --- | --- |
| Name:  | Sam the Olympic Eagle |
On that same date and year as the emblem logo was introduced, the mascot for the Games was introduced. It was named Sam the Olympic Eagle and was designed by Bob Moore of Walt Disney Productions. The mascot was beloved by many sports fans all over the world.
See also