Contents

2015
2015–2016
2016–2017
2015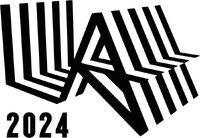 Designed by Sydney-based Re, this logo is inspired largely by the emblem for Los Angeles 1984 and Munich 1972 and Mexico 1968. The logo also takes inspiration from the shadows cast by the Californian shore-side palm trees and the stars and stripes of the American flag.
2015–2016
After Boston withdrew their bid for the 2024 Olympics, Los Angeles was chosen by the United States Olympic Committee as a replacement candidate on 1st September 2015. This logo was an interim logo until the official bid logo was revealed on 16th February 2016.
2016–2017
The official Los Angeles 2024 Olympic Candidate City logo was unveiled on 16th February 2016, at the USC Building. The logo is inspired from the city's name Los Angeles (Spanish for 'The Angels'), the new soaring angel logo was created by design agency 72andSunny and L.A. firm Bruce Mau Design. According to the team, it is intended to symbolise athletes reaching for their dreams. The winged figure is colored using a palette inspired by the city's sky at sunrise and sunset, in keeping with the bid's slogan: Follow the Sun.
On 31th July 2017, the International Olympic Committee decided to award the 2024 and 2028 Olympic Games at once. The remaining bidders; Paris and Los Angeles would be given host privileges to the 2024 and 2028 games respectively. Los Angeles agreed to the deal and forfeit their 2024 bid and changed to bid for 2028.
On 13th September 2017 at the 131th IOC Session in Lima, Los Angeles won the hosting rights to the 2028 Summer Olympics.
Community content is available under
CC-BY-SA
unless otherwise noted.