Contents

2016–2017
2017–2019
2019–present
Magic TV is a Romanian music-oriented television channel, owned by Antenna Group from Greece. The television channel mainly broadcasts music programs.
2016–2017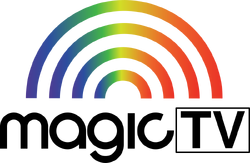 Magic TV was officially launched on September 15, 2016. It was first launched in tests in August 2016, alongside its sister channel Rock TV.
2017–2019

On November 14, 2017, Magic TV changed its logo, by giving up its colors and lines above this logo. The font of this logo was also changed.
2019–present

On May 30, 2019, Magic TV changed its logo by adding a circle on the TV text.