This page only shows primary logo variants.
For other related logos and images, see:
Contents

1969–1991
1992–2018
2019–present
1969–present
1969–1991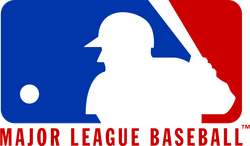 | | |
| --- | --- |
| Typography:  | Franklin Gothic Extra Condensed |
Major League Baseball was founded in 1903, but did not adopt an official logo until 1969. The red, white and blue "Batter" logo was commissioned by the league in preparation for the 1969 Professional Baseball Centennial Celebration. The logo made its debut at the beginning of the 1969 season, but its authorship was disputed until 2008, when Jerry Dior was confirmed to be behind the design. Dior stated that he created the logo during a single afternoon sometime in 1968, using photography of numerous MLB athletes as reference (contrary to popular belief that he modeled it after Hall of Famer Harmon Killebrew).
1992–2018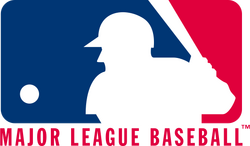 | | |
| --- | --- |
| Typography:  | Franklin Gothic Extra Condensed |
For the 1992 season, the original logo had its color shades adjusted, coinciding with its implementation on every cap used in the league set to their own team colors, which can be seen below.
2019–present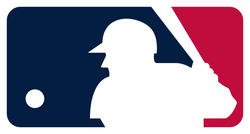 | | |
| --- | --- |
| Typography:  | MLB Bullpen (custom) |
On March 20, 2019, the MLB changed the color shades of its logo again, this time to match those of the American flag, in commemoration of the 150th anniversary of professional baseball. The league's full name was also officially removed from the logo and replaced with its acronym in a new typeface, although only the symbol is still used in most cases.