This page only shows primary logo variants.
For other related logos and images, see:
Contents

1995–2004
2004-2014
2014–present
Marbo Product (Serbian: Марбо продукт / Marbo produkt) is a Serbian subsidiary of PepsiCo that manufactures, markets, and sells potato chips, and other snack foods. Its headquarters is in Belgrade, Serbia. One of their brands are Chipsy, Clipsy, GUD and Pardon sticks.
1995–2004
2004-present
2004-2014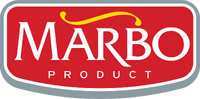 2014-present