Maytag Corporation was an American manufacturer of home appliances, particularly laundry washers and dryers, founded in 1893 in Newton, Iowa by Frederick Maytag as Maytag Washing Machine Company. Today it is a brand owned by Whirlpool Corporation.
Early years
This was one of the earliest logos used by the company.
Postwar years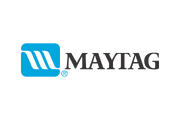 This was the logo adopted by Maytag and used through most of the latter half of the 20th century.
Present day
This is the logo used by Whirlpool Corp. to sell Maytag products today.