1996–2003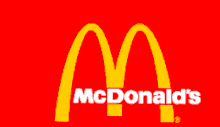 This shows a man in a red background using a ladder, climbing it, and cleaning the 1968 logo until it shines. After the arches shine, the man goes behind the logo, grabs his ladder, and hides.
2003–2004
Just an enhanced version of the 2003 logo.
2004–2010
The same as before, except the slogan was now added below.
2010–2013
The logo was placed on a half red/half dark-red background, and the bright yellow enhancement was gone. Instead, it was replaced with a white shine on top of the arches. Also, the (R) symbol on the arches was now smaller and became yellow. The same symbol near the slogan is now bigger and more visible. The font is also thicker and the "i'm" and "lovin" parts are less spaced.
2013–Late 2014
Same as before, except that the white shine was now gone.
Late 2014–2016
The color shade was changed on the arches, and the arches are bigger. The slogan "i'm lovin' it" is gone. The background changed to red. The shadow is also thinner.
2016–2019
2019–present
Community content is available under
CC-BY-SA
unless otherwise noted.