1979–1991
| | |
| --- | --- |
| | SVG NEEDED |
The first Happy Meal logo, which had simple "McDonald's HAPPY MEAL" text and a yellow Happy Meal box in a red rounded square.
1991–1997
| | |
| --- | --- |
| | SVG NEEDED |
In 1991, the Happy Meal icon was changed to the smiling Golden Arches, and the "McDonald's" text was replaced with their logo. The "HAPPY MEAL" text is the same as before.
1997–2003 (USA), 1998–2004 (Philippines)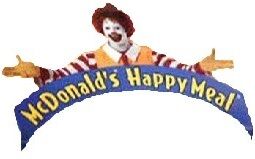 | | |
| --- | --- |
| | SVG NEEDED |
In late 1997, the logo was updated using the font similar to the promotions used since 1995. The packaging with this logo used the traditional paper bags much like the carry-out bags, as opposed to the signature cardboard box with the Golden Arches handles with Ronald McDonald.
1998–2004 (Germany)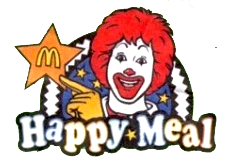 | | |
| --- | --- |
| | SVG NEEDED |
This is a unique alternate version of the Happy Meal logo, as used in Germany until 2004. It had the Cooper font with multicolor outlines on the text.
2003–2009 (USA), 2003–present (International), 2004–2013 (Philippines)
| | |
| --- | --- |
| | SVG NEEDED |
In 2003, the logo was updated in honor of the Happy Meal's 25th anniversary. With this logo, the packaging returned to the signature box with the Golden Arches handles. However, this logo is still used in Europe and Latin America. There is also a version with the URL used on some packages from 2003 until 2009. The version with the URL became prominent by the end of 2006. In some countries, the purple color on the wordmark is colored yellow instead. This logo is still used internationally. Also, some restaurants in the US still used this logo for some toys after 2009.
2009–2014 (USA), 2009–present (International), 2013–present (Philippines)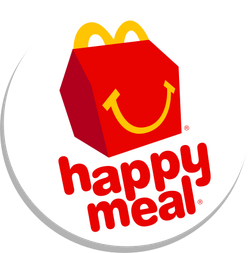 In 2009, they updated the Happy Meal logo for the Happy Meal's 30th anniversary, and the happy meal text turns red, and in a different font, and the McDonald's logo is replaced by a McDonald's Happy Meal box, similar to the first logo, stacked on top of the happy meal text. This logo is still used as an icon on the USA website. Latin America adopted this logo in 2018. This logo is still used on boxes.
2014–present (USA)
| | |
| --- | --- |
| | BETTER LOGO NEEDED |
The 2009 logo was modified in 2014 with different colors to celebrate the Happy Meal's 35th anniversary. The circle shape has been removed, and the text has been slightly modified and changed to rainbow colors, like the 2004 logo. The Happy Meal box stays the same. The international mascot "Happy" as in "Happy Meal" was also brought over to the United States. He is a living Happy Meal box. Though this received negative criticism due to his overall creepy appearance.
2019–present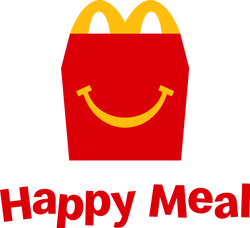 This is Happy Meal's official logo, introduced for the meal's 40th anniversary.
Community content is available under
CC-BY-SA
unless otherwise noted.