1998–present
| | |
| --- | --- |
| | BETTER LOGO NEEDED |
Owner
MediaQuest Holdings Inc. (29.13%) | Upbeam Investments Inc. (28.87%) | Telemedia Business Ventures Inc. (25%) | Med Vision Resources Inc. (16.67%)
---
Parent
PLDT (MediaQuest Holdings Inc.)
---
Divisions:
News5 | Rescue5 | One Sports | Cignal Entertainment
---
Subsidiaries:
Alagang Kapatid Foundation | Media5 | Mediascape/Cignal TV | Nation Broadcasting Corporation | Pilipinas Global Network Ltd. | Kapatid International
---
Affiliates and TV Productions
ABS-CBN Entertainment8 | Brightlight Productions | Business World Content Cows Company | CS Studios | The Philippine Star | PhilStar TV | Straight Shooters | Unitel Group | Viva Entertainment | WarnerMedia
---
TV Stations:
Regional5
Analog TV Stations:
DWET-TV 5 (Metro Manila, Pampanga, Bulacan, Rizal, Cavite, Laguna) | DWTE-TV 2/DWDI-TV 32 (Ilocos) | DZET-TV 28 (North Central Luzon) | DWBD-TV 44 (Batangas) | DWNA-TV 22 (Bicol) | DYBM-TV 36 (Iloilo) | DYTE-TV 32 (Bacolod) | DYET-TV 21 (Cebu) | DXGB-TV 11 (Zamboanga) 4 | DYTE-TV 21 (Northern Mindanao) | DXET-TV 2 (Davao) | DXER-TV 12 (South Central Mindanao)
Digital TV Stations:
DWET-TV 51/18 (Metro Manila) | DXGB-TV 40 (Zamboanga)
---
Television channels:
Analog/Digital Free-to-air channels:
TV5 (Other) | One Sports (Other)
Satellite channels:
BuKo Channel7 | NBA TV Philippines6 | One News2 | One PH | One Sports+ | PBA Rush3 | Sari-Sari Channel1 | UAAP Varsity Channel9 | Word Of God Network
International channels:
Kapatid Channel | AksyonTV International
---
Radio networks
Radyo5 News FM
---
Telecommunications and digital media:
Cignal | D5 Studio | SatLite | Sulit TV
---
YouTube Channels:
D5 Studio | GG Network | News5Everywhere | One News | OnePH | One Sports | One Sports+ | TV5 Philippines
---
Internet, Web TV and social media:
Cignal Play | GG Network | News5 Digital
---
Inactive:
Catsup | TV4ME Philippines | ESPN5.com | One Screen | Colours
---
Former news websites and affiliates
BST Tri-Media Productions/Bitag Media Unlimited | InterAksyon | Probe Productions | ViacomCBS Networks International | Disney Branded Television | HIT Entertainment | Sesame Workshop
---
Defunct:
ABC-47 | AKTV | Weather Information Network/Bloomberg TV Philippines
1Joint venture with Viva Entertainment.
2Joint venture with Bloomberg L.P..
3Affiliate with Philippine Basketball Association.
4Affiliate with Golden Broadcast Professionals.
5Former joint ventures with PhilStar Global Corporation.
6Partnership with the NBA.
7Joint venture with APT Entertainment.
8Partnership with ABS-CBN Corporation.
9Partnership with the University Athletic Association of the Philippines.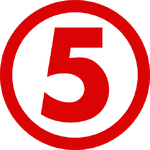 Headquarters:
TV5 Broadcast Complex, 762 Quirino Highway, Novaliches, Quezon City, Philippines (1992-2013)
TV5 Media Center, Reliance corner Sheridan St., Mandaluyong City, Philippines (2013-present)