Meda: Media Home Entertainment, Inc.
1978–1981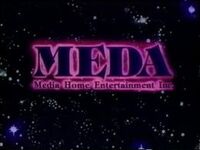 The word "MEDA" below the detail "Media Home Entertainment, Inc." In 1978, a filmmaker Charles Band established Media Home Entertainment. The word, Meda, was the name of founder Charles Band's then-wife and serves as a play on words
Media Home Entertainment, Inc.
1981–1993

1981–1988
1981–1984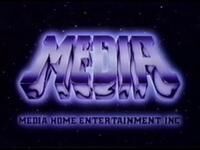 1984–1986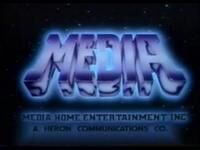 In 1984, the company was purchased by Heron Communications, Inc. (a subsidary of Gerald Ronson's Heron International).
1986–1988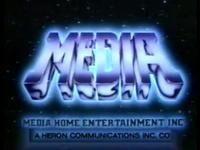 1988–1993
1988–1990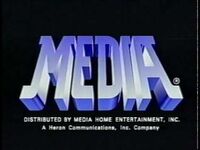 1990–1991
1991–1993
In 1991, Media Home Entertainment titles were distributed by CBS/Fox Video and Fox Video (both now 20th Century Studios Home Entertainment). In 1993, most of the Media Home Entertainment assets were absorbed into 20th Century Fox Home Entertainment while home video rights library was sold to Video Treasures (now Anchor Bay Entertainment).
Film
Lionsgate Films (Others | Trailer variants | Closing variants) | Lionsgate UK | Lionsgate Premiere | Celestial Pictures Limited | Pantelion Films1| Roadside Attractions (45%) | Summit Entertainment (Others | Trailer variants) | Summit Premiere | International Distribution Company, LLC | CodeBlack Films7 | Grindstone Entertainment Group | Mister Smith Entertainment6 | Good Universe | Globalgate Entertainment8

---
Home Video
Lionsgate Home Entertainment | Vestron Video (Vestron Video International)
---
Television
Production and distribution
Lionsgate Television | Debmar-Mercury | Sea to Sky Entertainment | 3 Arts Entertainment (50%)9
TV channels

---
Music
Lionsgate Records | Summit Entertainment Records
---
Other
Primal Media | Lionsgate Entertainment World | Lionsgate Games
---
Former/Dissolved Properties
Vestron Pictures | Vestron Television | Family Home Entertainment (Family Home Entertainment Kids) | USA Home Video | International Video Entertainment | Live Home Video | Live Entertainment | Artisan Entertainment | Artisan Television | Avalanche Home Entertainment | Sterling Home Entertainment5 | Trimark Pictures | Trimark Home Video | Trimark Television | Lightning Video | Lightning Pictures | Avid Home Entertainment | RadioVision International | Fearnet3 | Mandate Pictures | Mercury Entertainment | Debmar Studios | Magnum Entertainment | Children's Video Library | Anchor Bay Entertainment (Anchor Bay Films) | HGV Video Productions Inc. | Starmaker Entertainment | Heron Communications | Media Home Entertainment | The Nostalgia Merchant | Hi-Tops Video | Fox Hills Video | Heron Home Entertainment | Burbank Video | Prism Entertainment | Wizard Video | Starz Productions | Starz Pictures | Overture Films | Starz Home Entertainment | Jensen Farley Pictures | Celebrity Home Entertainment | Defy Media | Pop4

---
Notes
1Co-owned with Televisa
2Co-owned with Saban Capital Group
3Co-owned with Comcast, NBCUniversal and Sony (33%)
4Co-owned with ViacomCBS (50%) until March 12, 2019
5A joint venture with Scanbox International
6A joint venture with Constantin Medien co-owned with Amblin Partners
7A joint venture with CodeBlack Entertainment
8A joint venture with Televisa, Tobis Film, Nordisk Film, TME Films, Gaumont Film Company, Lotte Entertainment, Belga Films, PKDN Films, Paris Filmes, Falcon Pictures and Cine Colombia
9Lionsgate has the choice to acquire the remaining 50% of 3 Arts in 2023.


Community content is available under
CC-BY-SA
unless otherwise noted.