Miami-Dade County was established on January 18, 1836 as Dade County. The name was changed to Miami-Dade County in 1997 by public vote.
2004–present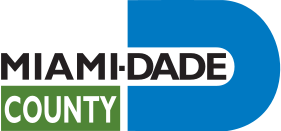 Main logo used since April 13, 2004 (approved on May 11, 2004).
In the 1970s, the county established the countywide transit system, with 9 privately-owned local bus companies accompanied with their own wildly differing color schemes. It was decided, then, that they use a unifying color scheme of blue (for South Florida's proximity to ocean) and green (for its abundant foliage), which were approved in 1978. By the 1990s, the various county government departments all had a white, blue & green color scheme, though all having their own unique logos. In November of 2003, County Commissioners had decided the need for a unifying logo across most departments, which was sanctioned for use on April 13, 2004 (and approved on May 11, 2004).
References
Community content is available under
CC-BY-SA
unless otherwise noted.