For the mall in Baton Rouge, Louisiana, see Cortana Mall.
2014–present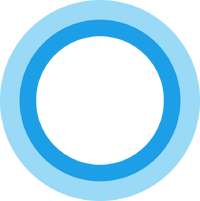 Named after the character of the same name from the Halo video game franchise, Cortana is available for Windows Phone 8.1, Windows 10, and Windows 10 Mobile. On Windows platforms, the color of Cortana depends on your device color.
Cortana was previously available for Android, Harman Kardon's Invoke smart speaker, iOS and the Xbox One game console. In 2020, Microsoft will reorient Cortana to focus more on Office 365 assistance rather than being a personal assistant like Amazon's Alexa, Google Assistant, and Apple's Siri. Part of this process will involve Cortana being separated from Windows 10's core code and packaged into a PWA app with a fluent design UI as well as discontinuing the Android and iOS apps respectively. This will be distributed and maintained (updated) via the Microsoft Store.