Contents

2005–2012
2012–2018
2018–present
2005–2012
DESIGNER
Spin
4Creative
TYPOGRAPHY
Unknown
USAGE
Official
More4 was launched on 5 October 2005. The logo consists of four blocks that form a 4 numeral, with the letters M, O, R and E (M and E are Circle) in each of the blocks. The logo and channel's identity was designed by a London-based agency called Spin in collaboration with 4Creative. More4 uses a custom made font which was designed by Fontsmith.
2012–2018
DESIGNER
4Creative
ManvsMachine
TYPOGRAPHY
Unknown
USAGE
Official
As More4 shifts to lifestyle programming on 23 January 2012, the channel revealed a new logo that was announced in November 2011. The idents and graphics were created by ManvsMachine and 4Creative. The idents feature colorful moving "scrapbooks" and were installed in places such as a staircase, a cafe window, and an abandoned boat located in the beach of Dungeness. ManvsMachine designed 400 scrapbooks along with Jason Bruges Studio to be used in the idents. The HD version was finally launched in 2013.
2018–present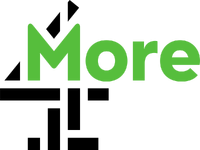 On 27 September 2018, Channel 4's multi channels rebranded with More4 incorporating the Channel 4 logo. The logo has the word "More" in green placed onto the Channel 4 logo.
Community content is available under
CC-BY-SA
unless otherwise noted.