Note that Munich is the English name for the event's host city and 'München' is its German name.
196?–1972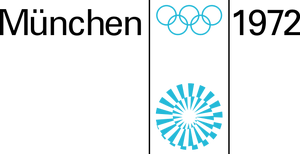 The emblem logo was revealed in the mid-1960s and was known as "The Bright Sun". The logo was designed by Otl Aicher.
"Munich 1972" Fake logo
There's a common misconception that another version of this logo which uses the city's English spelling of Munich and excludes the Olympic Rings is the official lockup of this logo. That version is so pervasive, that it was for a while used on the official Olympic website. The above shown is the actual lockup of the emblem. It's unknown where the fake lockup came from or why it's so common.
See also