Nicktoons (France) redirects here.
Contents

2003-2005
2005-2010
2010–2015
N-Toons was a block on Canal J, which launched the Nickelodeon brand in French areas. Originally named after Nicktoons, the block rebranded on November 1, 2005, as N-Toons. Thus, a seperate channel was launched to air Nickelodeon shows. The N-Toons block was moved to Nickelodeon in 2011, but it shut down in 2015.
Nicktoons
2003–2005
Before Nickelodeon (France) launched in 2005, the block was known as Nicktoons, named after the channel.
2005–2010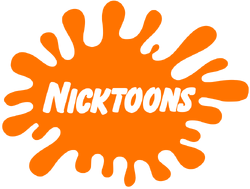 Around November 1, 2005, the Nicktoons programming block was rebranded as N-Toons, the same day Nickelodeon (France) started airing.
N-Toons
2010–2015

Around 2010, the N-Toons logo was changed, on par with the Nickelodeon logo change. The logo is similar to the normal Nicktoons logo, but with "nick" replaced with just an "n". In 2011, there was a block named N-Toons on Nickelodeon, but it shutdown in 2015.