Contents

1955–1971
1969–1978
1978–present
Namco, Ltd. (Stylized known as namco) was a Japanese developer and publisher of arcade and home video game consoles founded by Masaya Nakamura on 1st of June 1955. It was located on Ōta, Tokyo as a World Headquarters, and several divisions were established internationally. Today it's a part of Bandai Namco Holdings, under the name of Bandai Namco Entertainment since 2006.
Nakamura Seisakusho/Nakamura Manufacturing
1955–1971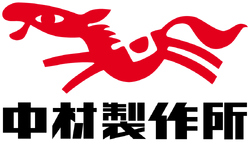 The Nakamura's game company was founded as Nakamura Seisakusho in 1955, and four years later changed the name as Nakamura Manufacturing Company until 1977. It consisted as a red running horse as the first game of the company and the wordmark was written in Japanese.
Namco
1969–present
1969–1978

DESIGNER
Unknown
TYPOGRAPHY
Corporatus
USAGE
Official
The symbol was dissappeared by 1971, and left only the wordmark as a romanized initial letters that stands for: Nakamura Amusement Manufacturing Company which is used as today.
1978–present

DESIGNER
Unknown
TYPOGRAPHY
Corporatus
USAGE
Official
The 1971 logo was slightly changed in 1978. In 1984, the Namco logo added the letter "T" that stood for Entertainment as the final letter for the home console publisher division.
In 2005, Namco merged with Bandai to become Bandai Namco Holdings. In 2006, Namco and Bandai's video game operations merged into Bandai Namco Games Inc. (later known as Bandai Namco Entertainment). It was still in use in the official website.
External links
Community content is available under
CC-BY-SA
unless otherwise noted.