This page only shows primary logo variants.
For other related logos and images, see:
The National Rugby League is the premier Australasian league of professional rugby league teams and the world's largest rugby league club competition by viewership and attendance. The NRL's main tournament is the NRL Premiership (naming rights held by Telstra Corporation) and is contested by 16 teams, 15 based in Australia and 1 based in New Zealand.
1998–2012
2013–2018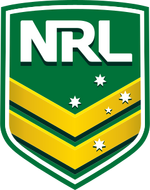 2018–present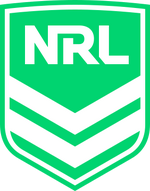 On the 12th September 2018, NRL redesigned their 2013 logo and introduced it as their new official logo by mid October. This logo removes the drop shadows, southern cross and the yellow colour from the logo, replacing the existing green with a mint hue. The shield shape and wordmark were also rebalanced.