Nebraska Public Media (previously known as Nebraska Educational Telecommunications, or NET in shorthand) is the network of PBS- and NPR-affiliated stations for the U.S. state of Nebraska.
KUON-TV
1954–1974

| | |
| --- | --- |
| | BETTER LOGO NEEDED |
The TV flagship of what would become Nebraska Public Media is KUON-TV in Lincoln, which commenced broadcasting on November 1, 1954. A statewide network would be assembled in the 1960s under the control of the Nebraska Educational Television Commission.
Nebraska ETV Network
1974–1976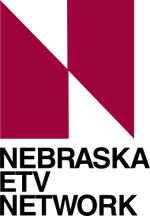 By 1974, the statewide network would adopt the moniker of the Nebraska ETV Network, and would use this abstract, burgundy-colored "N" logo. In October 1975, NBC would unveil a logo that was an exact duplicate of this logo, save for the red-and-blue color scheme of NBC's version. It would prompt Nebraska ETV to sue NBC for trademark infringement in February 1976.
1976 (temporary)

| | |
| --- | --- |
| | BETTER LOGO NEEDED |
1976–2005
Nebraska ETV and NBC would settle their lawsuit out of court, resulting in NBC keeping its new logo (which it would use until 1979) and giving Nebraska ETV over $800,000 in new equipment (including a color mobile unit). As well, NBC would give Nebraska ETV $55,000 to cover the cost of designing and implementing a new logo, the result of which is shown here.
1976–1980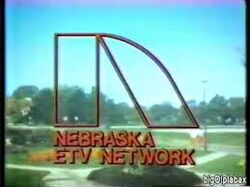 1980–1986
1986–1989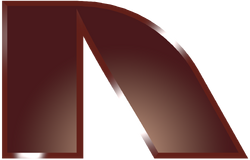 1990
1991–2005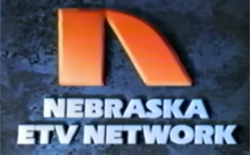 Nebraska Educational Telecommunications
2005–2021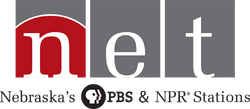 | | |
| --- | --- |
| | SVG NEEDED |
In January 2005, Nebraska ETV and Nebraska Public Radio would adopt a unifying NET brand.
Nebraska Public Media
2021–present
On May 15, 2021, the NET brand was replaced with Nebraska Public Media, reflecting the network's mission of serving Nebraskans through multiple media platforms.
TV stations in Southeastern and Central Nebraska, including Lincoln
---
Defunct stations:
TV stations serving Omaha, Nebraska and Council Bluffs, Iowa
---
Defunct stations:
TV stations in North Platte
TV stations in Eastern Wyoming and Western Nebraska, including Cheyenne, Laramie, and Scottsbluff
---
Defunct station: