Nemzetiségi adások
2007-2012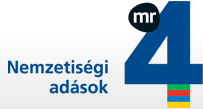 2007. február 1-jén a Magyar Rádió 4. csatornájaként induló Nemzetiségi adások Európában szinte egyedülálló módon minden államalkotó kisebbséget saját anyanyelvén szólít meg. A rádió a Kossuth Rádió nemzetiségi műsoraiból vált le, így alapítva külön adót. Céljai közt van a célközönség tájékoztatása, szórakoztatása, kulturális értékeket közvetítése és teremtése.
2012-2016

Nemzetiségi Rádió
2016-present
In 2016, Parlamenti adások and Nemzetiségi adások changed its name 'adások', which means programmes to 'Rádió'.
Community content is available under
CC-BY-SA
unless otherwise noted.