The Willy Wonka Candy Company
1971–1979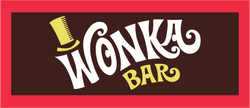 1979–1996
| | |
| --- | --- |
| | SVG NEEDED |
1996–2009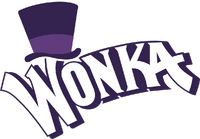 This logo is the fourth logo; it resembles the logo of the fictional company featured in the 1971 film.
2009–2015
| | |
| --- | --- |
| | SVG NEEDED |
The brand gets a dramatic makeover, with new products (most notably the premium Wonka Exceptionals line), new packaging, new advertising, a new website, and a new logo, resembling the classic logo.
Nestlé Candy Shop
2015–present
| | |
| --- | --- |
| | SVG NEEDED |
In mid-2015 the Willy Wonka brand name was dropped by Nestlé in favour of special "throwback" packaging before eventually renaming the entire brand as "Nestlé Candy Shop". Candies previously made by the Willy Wonka brand are now under the Nestlé brand naming, excluding the Wonka brand name on the top left corner.