Nestlé Magnolia
1998–2001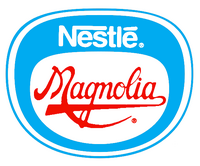 When Nestlé Ice Cream was launched, it was known as Nestlé Magnolia, since San Miguel Corporation (which owned Magnolia before Magnolia merged with Nestle) sold Magnolia, primarily because of two reasons: San Miguel was suffering the Asian financial crisis, and Magnolia lost its position as the country's leading ice cream company to Selecta. Nestlé used its traditional ring and circle logo for its ice cream brand, featuring the Nestlé logo on top of the ring, and the Magnolia text on the circle.
Nestlé Ice Cream
2001–2009
When Magnolia was relaunched by San Miguel in 2001, the ice cream division was renamed Nestlé Ice Cream. The logo was modified, now featuring the Nestle logo on the circle and on top of the ring, it now features the word "ICE CREAM".
2009–present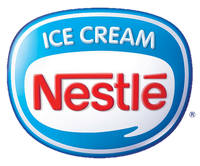 In 2009, Nestlé modified the ice cream logo, turning the circle into an oval due to a modification in the bottom of the logo.
In 2012 the slogan changed.
Community content is available under
CC-BY-SA
unless otherwise noted.