News18 Bangla is a 24-hour Bengali news channel owned by Network18. It was launched on 10 March 2014 as ETV News Bangla and renamed to News18 Bangla on 12 March 2018.
ETV News Bangla
2014–2018
News18 Bangla
2018–present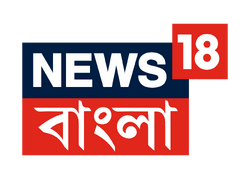 Bengali-language television channels in India
General entertainment channels:
---
---
---
---
---
---
Part of Reliance Industries Limited (Network18)
---
Subsidiaries: Viacom181 (Viacom18 Studios)
---
News18 network:
National news channels: Hindi: News18 India | English: CNN-News182
Business news channels3: Hindi: CNBC Awaaz | English: CNBC-TV18 HD | Gujarati: CNBC Bajar
Regional news channels: (most acquired from the ETV Network)
Hindi-speaking regions: News18 Punjab/Haryana/Himachal Pradesh, Uttar Pradesh/Uttarakhand, Madhya Pradesh/Chhattisgarh, Bihar/Jharkhand and Rajasthan
Other regional channels: News18 Kannada, Bangla, Odia, Lokmat+ (Marathi), Gujarati, Urdu, Assam/Northeast+ (Assamese), Tamil Nadu+ (Tamil) and Kerala+ (Malayalam)

---
AETN18 network4:
History TV18 HD
Other channels: Topper TV | Shop CJ
---
Defunct channels: FYI TV18 HD
Divested channels: Home Shop 18
---
+Not formerly owned by ETV Network; these channels have always been owned by TV18.
1Joint venture with ViacomCBS.
2Joint venture with Turner Broadcasting System (WarnerMedia).
3Joint venture with NBCUniversal (Comcast).
4Joint venture with A&E Networks.

---