For the brand, see NickMusic (Brand).
Contents

2002–2012
2012–2016
2016–present
MTV Hits
2002–2012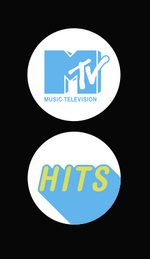 In 2010, the Music Television sign was removed from the logo.
2012–2016

NickMusic
2016–present

MTV Hits was rebranded as NickMusic on September 9, 2016. This is the fifth Viacom-related channel rebrand, following BET Jams, BET Soul, CMT Music, and MTV Classic.