This page only shows primary logo variants.
For other related logos and images, see:
Contents

1992–1998
1998–2009
2009–present
Nickelodeon Animation Studio (also known as Nickelodeon Animation) is the main animation production arm of the American children's cable network Nickelodeon. Originally founded as Games Animation in 1992, it is best known for producing several animated television series for Nickelodeon and its sister channels, such as SpongeBob SquarePants, Dora the Explorer and Avatar: The Last Airbender. From 1998 to 2009, it was known as Nickelodeon Animation Studios, before its name was revised to its current singular wording.
Games Animation Inc.
1992–1998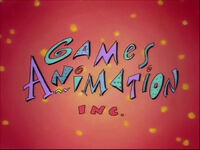 Nickelodeon Animation Studios
1998–2009
Typography: 
Balloon Extra Bold
Helvetica Neue Bold
Nickelodeon Animation Studio
2009–present

Typography: 
Custom (unofficially nicknamed "Litebulb")
Gotham Book