1990–2009
1990-1995
1990-2009
1992-1993 (The Nickelodeon Wild Side Show)
1992-1994
1993
1993-2009
1993
1993-1995
1993-1999
April 10th-December 16th, 1994
1994-1997
1994-2004
This article or section lacks a former logo at the moment.
You can help Logopedia by uploading it here.
1996-2008
The logo started along with the arm Nick Jr. Productions in 1996. This appeared on KaBlam!.
1998-2003
March 2000-September 2000
On March 3rd, 2000 Nick begins showing re-typed credits on the left side of the screen with the show's logo on top, while showing promos on the right side and using older Nickelodeon logos that wasn't being used on TV with copyright notice at the bottom while the show's end theme was playing.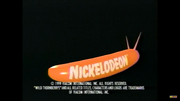 2000-2006
2007-2008
2007-2009
2008-2009, January 28, 2010 (SpongeBob SquarePants: Viking-Sized Adventures)
When Nick Jr. Productions was merged, Nickelodeon made new "light bulb logo", First, the splat is shown with a black background. Then it shines orange to red. The splat changes shape to an light bulb. You could hear the kids laughing. Then the light bulb reverts back to the splat. The background turned black except for the right side. The version could have bylineless or having a copyright disclaimer. Sometimes the logo could have the faster version. First, The light bulb changed shape to the splat. There's no kids laughing here. The splat is on the downish right. The splat is small at the end. The faster version could be seen on The Backyardigans. The normal ones could appear over Nick Jr. or Nickelodeon shows.
2009–present
2009–present
2017-present
Videos
Community content is available under
CC-BY-SA
unless otherwise noted.