Logos
1970–2006
Numeral variants (1977–1988)
In 1977, an numeral variant of the logo without the dots was used alongside the main logo, as seen on some news gathering vehicles, outside broadcast units and ENG equipment and some station identification as well as the Chevrolet Camaro that was featured in the 1980 Hardie-Ferodo race and the 1981 and 1982 James Hardie 1000 races.
2001–2006
2006–2008
2008–present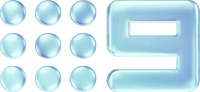 On 14 January 2008 as part of a relaunch, the network added the nine dots back into the logo after a 2-year absence. The nine dots are represented by translucent 3D discs during that year. The music used throughout the network's graphics package was set to "Smile" by The Supernaturals. This logo was used only in Sydney, Melbourne, Brisbane and Darwin.
On 1 February 2009, the dots are once again 2D as part of a short-lived rebrand, which lasted until 26 September.
On 27 September, the dots are changed to spheres yet again when they launched its new slogan, "Welcome Home". It also began to reuse the iconic "Still The One" theme tune into its graphics. In March 2010, the last two stations in Perth and Adelaide finally reinstated the dots into the logo.
On 15 April 2012, just in time for the premiere of The Voice, Nine changed its identity to apply the logo in different colours after its 6-year absence. It is also reminiscent of the 2002 graphics package
Colour variants (2012-present)
On 26 November 2015 when the network underwent a major rebranding, Nine modified their 2012 logo and it would now be used as a secondary logo alongside the current one. Also, the multi-channels GO! and GEM were renamed 9Go! and 9Gem respectively when the main channel relaunched its HD service on channel 90.
On-screen logos and idents
1970–1980
1981–1987
1987–2000
2001–2006
2006–2008
2008–2009
2009–2012
2012–present
Slogans