SPT Telecom (Státní telekomunikační podnik)
1993-1995
1995-1999
Eurotel
1990–1993
Eurotel was founded in 1990 as a joint venture between SPT Telecom, US West (now part of AT&T) and Bell Atlantic (now part of Verizon Communications).
Eurotel Praha
1993–2001
Following the split of Czechoslovakia into the Czech Republic and Slovakia, Eurotel split into Eurotel Bratislava (now Slovak Telekom) and Eurotel Praha. Eurotel Bratislava continued to use the 1990 logo until 2005.
2001–2006
Český Telecom
1993–2006
In 2005, Telefónica acquired the fixed-line operator Český Telecom and the mobile operator Eurotel Praha, merging them into one entity in 2006 using the O2 brand.
O2
2006–present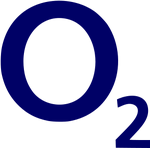 Telefónica agreed to sell the Czech O2 and its subsidiary the Slovak O2 to the Czech investment company PPF Group in 2013, with the O2 brand continuing to be used.
See also