This page only shows primary logo variants.
For other related logos and images, see:
Orange Romania is the biggest telecommunications company and mobile network operator in Romania, ahead of Vodafone Romania, Telekom Romania and Digi Mobil. It owns 4% of Orange Moldova.
Mobil Rom
1996–2002

Orange was launched in December 1996 as "Mobilrom". [1] It had two consumer brands: Dialog for subscription-based services and Alo for prepaid services.
Orange România
1995 (unused), 2002–present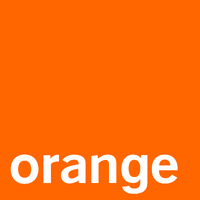 On November 14, 1995, a trademark for Orange was mysteriously filed, indicating that the brand could've been introduced to Romania before Mobil Rom even existed.
On April 5, 2002, Mobilrom rebranded to Orange. [2]
References
External links