Orange was a mobile network operator in the United Kingdom and the original company to use the Orange brand.[1] It was launched in 1994 by Hutchison Whampoa Limited (now CK Hutchison Holdings), then acquired by France Télécom in 2000, which then extended the Orange brand to most of its operations before finally renaming itself to Orange S.A. in 2013.
Orange merged with Deutsche Telekom's subsidiary T-Mobile UK in 2010 to form Everything Everywhere, which then introduced the EE brand in 2012. The EE, T-Mobile and Orange brands were used concurrently for some time before the latter two were retired in 2015.
1994–2015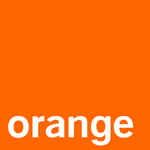 References
Affiliate company: CK Asset Holdings
---
Telecommunications:
Operating companies:
3 Group Europe | Hutchison Asia Telecom Group | Hutchison Telecommunications Hong Kong Holdings | Indosat Ooredoo Hutchison | TPG Telecom | Wind Tre
Mobile network brands:
3 (Austria | Indonesia) | 48 | Hallon | Hutch (Sri Lanka) | IM3 | Smarty | Vietnamobile | Wind Tre (Business)
Former operations:
Defunct: 3 (Australia)1 | Hutch (India)5 | Infostrada (Italy) | Orange (Austria5 | UK) | Tele2 (Austria)6 | O2 (Ireland)7 | Etisalat (Sri Lanka)8
Divested: Partner
---
A.S. Watson Group (75%)9:
European operations: Belgium: Ici Paris XL | Kruidvat | Germany, Poland, Hungary, Czech Republic and Albania: Rossmann (40%) | Latvia, Lithuania: Drogas | Netherlands: Ici Paris XL | Kruidvat | Trekpleister | PrijsMepper | Pour Vous | Turkey: Rossmann | Watsons | United Kingdom: Savers | Superdrug (Beautycard) | The Perfume Shop | Russia: Watsons | Ukraine: Watsons

Asian operations: Mainland China, Taiwan, Macau, Singapore, Thailand, Malaysia, Philippines, Indonesia: Watsons | Hong Kong: Watsons | ParknShop | Taste | Fusion | Great | Gourmet | SU-PA-DE-PA | Fortress | Watson's Wine
Other business: Hong Kong: Watsons Water | Mr. Juicy | Sunkist10
---
Infrastructure and Energy:
CK Infrastructure Holdings: United Kingdom: Northern Gas Networks | UK Power Networks | Seabank Power Station | Wales & West Utilities | Eversholt Rail | Hong Kong: Power Assets Holdings (Hongkong Electric Company) | Australia: Australian Gas Networks | SA Power Networks | New Zealand: Wellington Electricity

Other companies: Hutchison Ports | Husky Energy (40,2%) | Hong Kong Air Cargo Terminals11
---
Other assets:
TOM Group | CK Life Sciences | Hutchgo.com | WatsonsMall.com | Marionnaud12
---
Divested operations:
Asia: Disney Star
---
Notes:
1Joint venture with Vodafone. Formerly operated under the 3 brand.
2Acquired from VEON.
3Joint venture with Hanoi Telecom.
4Joint venture with Ooredoo.
5Acquired by Vodafone. Now part of Vodafone Idea Limited.
6Acquired from Orange S.A./Tele2 AB and merged into Hutchison Drei Austria.
7Acquired from Telefónica and merged into 3 Ireland.
8Acquired from Etisalat.
9Joint venture with Temasek Holdings.
10Under license.
11Joint venture with Jardine Pacific, Wharf Holdings and China National Aviation Holdings.
12Originally part of A.S. Watson Group until the group's IPO in 2014.
---