Contents

1993–2002
1995–1999
1999–2013
2008–present
PBS Kids (first era)
1993–2002
The first PBS Kids logo was based on PBS 1984 logo and was animated by Gene Mackles. It consisted of three stylized P-Heads, depicted as literally living things, complete with appendages, named the P-Pals, set on a white background. They are in different colors and patterns that change throughout the ident and eventually stop on blue, orange, and green respectively. They dance and sing "This is P-B-S! Woo-hoo-hoo!,", then stop when a red dog (P-Pet) walks by the lower portion of the screen and barks. He also holds a balloon saying E/I in the redesigned one. At the same time, the third one, Pernell, ad libs and his red hat flies off of his head for a moment, then drops back down. The "PBS" text appears in black to the lower left of them. This logo bares resemblelance to the 1972 For Kids logo. Although the logo was retired in 1999 on TV, it was used on VHS releases until 2002.
PTV
1995–1999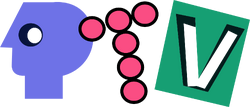 In 1995, This is PBS was renamed PTV. This was not a major rebrand, as the P-Pals remained until 1999. The P-Head was based on PBS' 2nd logo from 1971, but with the B & S replaced with a T, made out of pink circles, & a V inside a green box.
PBS Kids (second era)
1999–present
1999–2013
On September 6, 1999, PTV was completely rebranded as PBS Kids, at this time, the P-Pals ended their 6 year run. This logo was in use on their website as early as 1998. PBS Kids' mascots, Dash and Dot, were introduced. This logo was designed by Richard McGuire (designer of characters for The New Yorker magazine) with Network IDs being produced by Lee Hunt Associates. Starting in 2000, new IDs were produced by Primal Screen.
2008–present
On September 1, 2008, the word "Kids" moved into the thought bubble, making the thought bubble bigger, and the face smaller. Until late 2013, this logo was used in tandem with the previous logo. On October 6, 2013, the Dot variant of the logo retired while the Dash variant continues to be used, even though Dot remains as one of the PBS Kids Mascots, along with new characters Del and Dee. Despite the Dash variant being current, Dash himself was retired from the main mascots.
Community content is available under
CC-BY-SA
unless otherwise noted.