1993-1999
1997–2000 (prototype, VHS releases)

The name "PBS Kids" was conceived in early 1997 as a rebranding effort for PBS as part of its ongoing changes of its profiles. This logo was on the top of VHS clamshell releases of PBS Kids shows.
2000 (prototype, VHS releases)

This logo was one of the many variants on the top of clamshell releases of PBS Kids shows.
1999–present
1999–2013
They were still used on selected PBS stations, April 22, 2003 the Terms of Service page, the Privacy Policy page, and on the old Everything page (https://pbskids.org/everything.html)
Character variations
Many times, Dot or Dash don't appear in the logo. Instead, the characters from a selected PBS Kids show replace the two. These character variations appeared on the website, and different versions appeared on TV idents.
2001–2015 (DVD/VHS releases)
2008–present
2017–present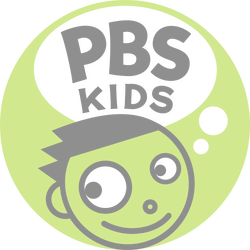 On December 23, 2017, a faded version of the Dash logo started being used on PBS Kids' 24-hour channel.