This page only shows primary logo variants.
For other related logos and images, see:
2017–2021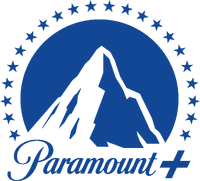 | | |
| --- | --- |
| Typography:  | Custom (wordmark) |

Launched: 
2017 (Scandinavia)
2018 (Hungary & Poland)
2019 (Latin America)
2020 (Russia [on Okko])
Paramount+ was originally launched as a TV Everywhere service in selected regions such as Scandinavia in 2017, Hungary and Poland in 2018, Latin America in 2019, and in Russia on June 1, 2020 on Okko.
2021–present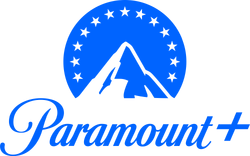 Typography: 
Custom (wordmark)
Peak Sans (brand, custom-designed)

Launched: 
September 15, 2020 (reveal)
March 4, 2021 (official)
On September 15, 2020, ViacomCBS (renamed to Paramount less than a year after Paramount+'s release) announced that CBS All Access in the United States and Canada and 10 All Access in Australia would be replaced by the Paramount+ brand, which would also relaunch in existing markets. The change was rolled out on March 4, 2021 in the United States, Canada and Latin America, followed by the Nordics on March 25 and Australia on August 11.
Certain changes to the logo include the shade of blue being lighter (#0064FF), the stars being inside the circle instead of around it, a change to the shadows of the mountain, and the wordmark being bigger.
The 13 stars - as opposed to 22 on the Paramount Pictures logo - correspond to the number of letters in the name when written out as "Paramount Plus", and are also rotated 18° apart so their edges are aligned along those increments, with alternating horizontals and verticals.
External links