Parlamenti adások
2007-2012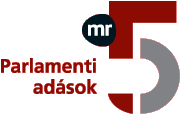 2007. február elsején a korábban a Kossuth Rádió URH-adásán sugárzott parlamenti adások a Magyar Rádió 5. csatornájaként induló Parlamenti adások adó műsoralkotó tényezője lett. Korábban a Bartók Rádió műsorán tervezték a politikai műsort sugározni, de ezt Bartók Béla utódainak és a rádióadó dolgozóinak, hallgatóinak tiltakozása nyomán levették a napirendről. A Parlamenti adások kizárólag a parlamenti közvetítéseket sugározza, ezen kívül online streamjén a Kossuth Rádió műsora hallgatható.
2012-2016

Parlamenti Rádió
2016-present
In 2016, Parlamenti adások and Nemzetiségi adások changed its name 'adások', which means programmes, to 'Rádió'.
Community content is available under
CC-BY-SA
unless otherwise noted.