Contents

1958-1972
1972-1993
1994-present
1958-1972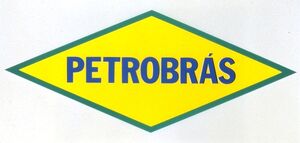 | | |
| --- | --- |
| | SVG NEEDED |
Petrobras was founded in October 1953 by President Getulio Vargas, but only five years later, the company's first logo was developed. It consisted of a yellow diamond, green outline and the word Petrobras, also accented in blue. Both the form and the colors used were reference to the national flag.
1972-1994

| | |
| --- | --- |
| | SVG NEEDED |
In late 1972, the brand had its first visual change, which lasted for over 20 years. The previous logo, the time was considered outdated by the Company and replaced by hexagon-diamond badge, which had two V letters together to form the design.
1971-1994 (Petrobras Distribuidora)
| | |
| --- | --- |
| | LOGO MISSING |
The "BR" symbol was created originally for the Petrobras Distribuidora brand - being used separatedly from the hexagon-diamond parent logo - on its gas stations, becoming more popular over the years.
1994-present
Petrobras initiative generated some problems, and the public no longer associate with Petrobras Distribuidora to Petrobras' image. Thus, both companies logo were unified.