Philippine Aerial Taxi Company
1935–1941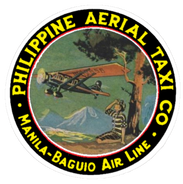 Philippine Airlines
1941–1947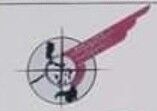 | | |
| --- | --- |
| | SVG NEEDED |
1947–1952

| | |
| --- | --- |
| | SVG NEEDED |
1952–1960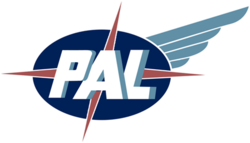 | | |
| --- | --- |
| | SVG NEEDED |
The Philippine Airlines logo has gone under four incarnations in the entire length of its operations. The first logo incorporated a blue oval with "PAL" superimposed in white letters, a four-pointed star whose points intersect behind the "A" in the PAL initials, and a wing whose position varied depending on the location of the 1952 logo (the wing points to the right if located on the left side of the plane, left if on the right side).
1960–1968

| | |
| --- | --- |
| | SVG NEEDED |
1968–1970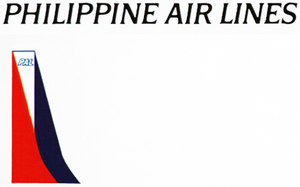 | | |
| --- | --- |
| | SVG NEEDED |
A variant of this logo used a globe instead in the blue oval with the PAL initials superimposed. This logo would be in use from the 1952 until the mid-1960, when it would be replaced by a second logo. The second logo adopted a blue triangle (with the bottom point missing) and a red triangle superimposed upon it, enclosed by a circle.
1970–1986

In the mid-1970, a third logo, which removed the circle, was introduced. The typeface used in the third logo was later applied to the second logo, which remained the official PAL logo until 1986, when it would be replaced by its current logo.
1986–present

The current PAL logo was designed by Landor Associates, it features the same two blue and red triangles used in the second and third logos. However, a yellow sun, reminiscent of the flag of the Philippines, was superimposed on top of the blue triangle, and a new Helvetica typeface was used.
Philippine Airlines will Join on SkyTeam Alliance in the Future [1] [2]
External links
Community content is available under
CC-BY-SA
unless otherwise noted.