Phillips 66 is a brand of oil, gasoline and other petroleum products originated and sold by the Phillips Petroleum Company from 1917 (the date of the company's founding) to 2012. The brand is now owned by the Phillips 66 Company, a new entity spun off from ConocoPhillips following its creation by the merger of the Phillips and Conoco (Continental Oil Co.) companies. The number "66" came from both the road where its gasoline was first tested (U.S. Highway 66 in Oklahoma, where the company began) and the top speed achieved by the test vehicle (66 miles per hour).[1]
1930–1959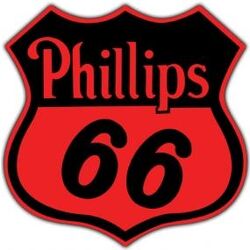 This was the original brand logo used until the 1950s. Note the lowercase, thick-and-thin typeface used for "Phillips" and the slightly tilted numeral 66.
1959?–present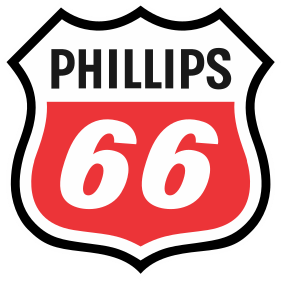 This is the brand's current logo, with the name Phillips in all capital letters and both elements in a sans-serif, uniform typeface. The numeral 66 is larger and has squared-off ends.
Cite error: <ref> tags exist, but no <references/> tag was found