This page only shows primary logo variants.
For other related logos and images, see:
Phineas and Ferb is an animated television series created by Dan Ponvenmire and Jeff "Swampy" Marsh for the Disney Channel and was debuted on August 17, 2007 as a preview and officially premiered on February 1, 2008, lasting eight years on-screen.
It deals with the story of Phineas Flynn and Ferb Fletcher, two stepbrothers ready to invent fun things on their summer days to fatigue boredom, however their older sister Candace Flynn will meddle in her plans and call her mother, when she arrives, the Invention that the protagonists made disappears due to the constant fights between Perry the Platypus (his pet) and Dr. Heinz Doofenshmirtz.
This franchise is together with its spin-off Milo Murphy's Law are both owned by The Walt Disney Company.
2006 (prototype)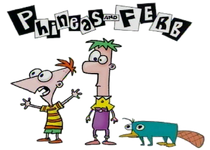 This is the first logo that was thought to be used in the series.
This consisted of the series name in a series of black and white squares and underneath, the prototype designs of Phineas, Ferb, and Perry. Occasionally a variant was used without the mentioned characters.
2007-present (franchise), 2007-2015 (series)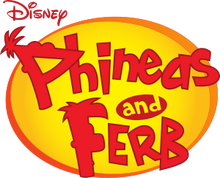 This is the logo when the series was released to the public.
It consists of a round sun (without rays) of yellow-orange color with gradients and on top the names "Phineas" and "Ferb" stacked on top of the sun in red with brown edges in its own typeface (Ferbstastic) and below, a colored ellipse brown with the conjunction "and" (which could change its language depending on the territory) piercing it and slightly tilted to the right. Despite the completion of the series in 2015, this logo continues to be used as a logo for the franchise although Milo Murphy's Law is nowhere to be found under the name "Phineas and Ferb".