Playskool is a subsidiary of Hasbro.
1928–1932

1932–1950
1950–1963

1963–1975

1975–1987

1987–1994
1994–2002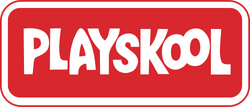 2002–2007

In 2002, the logo's shape changed from a rectangle to an oval. The white border around the logo was dropped for a new border.
2007–2020

In 2007, the 2002 Playskool logo was modified with a smaller oval and with part of the "P" and "L" are sticking out of the oval.
2020-present

Community content is available under
CC-BY-SA
unless otherwise noted.