This page only shows primary logo variants.
For other related logos and images, see:
Plaza Vea is a chain of hypermarkets, supermarkets and market express owned by Supermercados Peruanos S.A., part of Intercorp.
2001-2013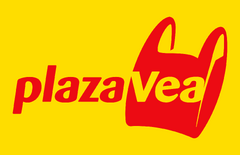 Plaza Vea was created on October 1, 2001 thanks to an agreement between Intercorp and the Ahold group, and finally in 2003 it became the total property of Intercorp.
The first logo was the words "plaza" and "Vea" in a typeface similar to Sari Extra-Bold Italic in red and yellow (sometimes in reverse) and on top of the latter a stylized shopping bag in red.
This logo was continued until November 2013, but you can see this logo in some stores without renewing, for example, in the Jockey Plaza store.
2013-present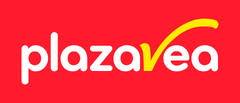 In November 2013, Plaza Vea made an important face wash, abandoning the bag with the name of the brand to now be the word "plaza" in red and in a typeface similar to Avenir Bold and the letters "ea" in "Vea", also red and the same typeface, and in the middle of both, a sort of "V" in the form of yellow shopping check, which replaces the bag used since 2001.
Usually the logo is usually seen on a red background and white letters, except the "V".
Since 2016, almost all stores, including old and new, already have this logo.
Community content is available under
CC-BY-SA
unless otherwise noted.