Polsat Games is a Polish television station of Telewizja Polsat dedicated mainly to video games, e-sport and anime, launched on October 1, 2018 in the form of an Internet channel (IPTV), and officially October 15, 2018 at 9:30 in the form of a TV channel.
2018–present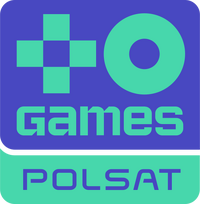 The biggest part of the blue color with plus signs engraved and the circle with the hole. The first of them resembles one of the buttons on the pad, the second one resembles a joystick. Below them, a stylized inscription GAMES, and below a smaller green rectangle with the inscription "Polsat". The logo is slightly transparent during e-sports broadcasts. From February 2019, the logo displayed in the corner of the screen is white.
2021 (tentative)
Polsat Games revealed a new logo and name on 10 June 2021 along with Plus and the newly rebranded parent company, Grupa Polsat Plus. However, it's logo will be modifing.