Contents

2008–2014
2014–2017
2017–present
Kix!
2008–2014
| | |
| --- | --- |
| | SVG NEEDED |
Kix! was launched in May 2008. The logo was green with a exclamation mark and the X was big with a white splat. The black band was later removed from the original logo and was never shown on screen afterwards.
Kix
2014–2017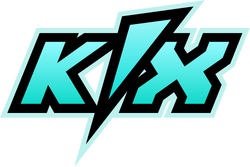 In Summer 2014, the Kix logo changed to light blue with black outlines and a pointy mark for the I. This was changed because the exclamation mark was removed from the name, but the logo continued to include it until this new logo was introduced.
Pop Max
2017–present
On 30 August 2017, the channel was permanently rebranded as Pop Max. Using the same name and logo as the temporary channel Pop Max, this time the logo is light blue, with black outlines while the temporary Pop Max was white with red outlines to match the Pop logo.