Contents

2018
2018–2021
2021–present
Profit News, formerly Profit.ro, is a Romanian business news television channel, owned by Clever Group. The channel broadcasts economic and financial news programs.
Profit.ro
2018

Profit.ro was intended initially to replace Look TV. However, when the channel was launched on August 24, 2018, it ended up becoming short-lived, lasting only 4 days. This logo's on-screen bug was in the top left corner.
2018–2021
On August 28, 2018, a new logo was introduced, with the on-screen bug moved to the top-right corner.
Profit News
2021–present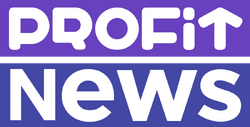 The channel was renamed to Profit News on May 14, 2021. As for the first weeks, the idents has not been changed yet. The logo has also been moved to the bottom left.
On May 18, 2021, the logo of the channel was moved again to the top right, where it was originally before the name was changed from Profit.ro to Profit News. After a few days, the logo was moved back to the bottom left.