Not to be confused with RTV (Indonesia).
This page only shows primary logo variants.
For other related logos and images, see:
Contents

1988–2000
1991–2000
1993–2000
2000–2015
2015–present

Rajawali Citra Televisi Indonesia (abbreviated as RCTI) is the first privately-owned television channel in Indonesia, launched on August 24, 1989. RCTI was also the first television network in Indonesia to re-air television commercials for the first time since TVRI stopped providing ad-breaks in 1981.
It was founded by a joint venture of Bimantara Citra and Rajawali Corpora. Since 2003, its shares are held by Media Nusantara Citra, part of the MNC Group.
1988–2000
RCTI was founded in 1987 and began its broadcast on November 13, 1988, using a cable-based set-top box system. The station was officially launched on August 24, 1989, as a pay television network in Jakarta. One year later, it started to broadcast free-to-air. In 1991, RCTI expanded to Bandung and finally began to air nationwide around 1993.
During its early broadcast, RCTI's on-air bug was a simple text until the early 1990s, when it started to use the full logo. It was placed on the right top with the exception of relaying TVRI's news programs, including Dunia Dalam Berita, the logo was moved to the left top.
1991–2000
1993–2000
On August 24, 1993, the logo was slightly updated by reducing its stripes from eleven to seven (including the red ones), which had launched along with new idents. The former two were still used as a corporate and off-air logo until 2000.
2000–2015
The most familiar and long-lived logo of RCTI was launched during the 11th-anniversary celebration of RCTI called Satu Indonesia Satu, on August 24, 2000. It retained the blue and red color as well as the Rajawali (Hawk in Indonesian) head. However, the whole logo was simply redrawn, thus making all stripes removed.
Subsequently, the on-air bug position was moved from the right top to the left top. In 2003, RCTI started to broadcast in 24 hours. 
2015–present
On May 20, 2015, during Indonesia's National Awakening Day (Hari Kebangkitan Nasional), all of MNC Group subsidiaries, including RCTI, straightened their logo. It was the first major change after 15 years.
External links
Holding company: MNC Corporation
---
Divisions
MNC Media (Global Mediacom | Media Nusantara Citra) | MNC Financial Services | MNC Land
---
Broadcast television networks:
RCTI (HD) | MNCTV | GTV | iNews
---
Part of MNC Media
---
Current channels:
General Entertainment: MNC Entertainment, Comedy Channel, Drama Channel, Infotainment | News & Current Affairs: MNC News, IDX Channel1 | Movies: Movie Channel, Premiere Channel | Music: Music Channel | Sports: MNC Sports, Soccer Channel | Kids: Kids Channel, Besmart | Lifestyle: Lifestyle & Fashion, Travel & Homes, Auto & Gadget, MNC Shop2 | Religious: Hidayah, LiFE | International: MNC Channel
---
Former channels:
MNC World News | Golf Channel3 | Karaoke Channel4 | Health Beauty | Extreme Channel
---
Notes
1Co-owned with Indonesia Stock Exchange.
2Co-owned with GS SHOP.
3Co-owned with NBCUniversal International Networks, now handled by Transvision.
4Cancelled


---
MNC Radio Networks:
Global Radio | V Radio | MNC Trijaya FM | RDI
---
MNC Vision Networks:
MNC Vision | MNC Play | K-Vision
---
Online websites and direct-to-consumer services:
Indonesia: Okezone.com | iNews.id | Sindonews.com | Metube.id | Mister Aladin | The F Thing | MNC Shop1 | MNC Now | RCTI+
Mainland China: FuMuBang | Joymeng
---
MNC Print Media:
Koran Sindo | Sindo Weekly | HighEnd | Just For Kids | Network
---
MNC Studios International:
MNC Pictures | Starpro | MNC Animation | MNC Film Indonesia | Star Media Nusantara | Mediate | MNC Innoform
---
Financial services:
MNC Bank | MNC Life | MNC Sekuritas | MNC Asset Management | MNC Finance | MNC Insurance | MNC Leasing
---
Property developments:
MNC Lido City | MNC Bali Resort | One East Residence | MNC Smart City
---
Other assets:
MNC College (MNC Education College | MNC Business College) | Indonesia Air | MNC Media TVConnect | MNC Media Investment | MNC Energy & Natural Resources | Hits Records | MNC Contents | MNC Licensing | MNC Games | Star Hits | MNC Update | MNC Innovation Center | Sindo Media | Infokom Elektrindo | MNC Decaux | Flash Mobile | MNC Talent Academy | Star Harvest Academy | MNI Global
---
Defunct/former:
MNC World News | Mobile-8 | Genie | Mom & Kiddie | Realita | HighEnd Teen | Woman Radio | Plaza Indonesia | WeChat
---
1Joint venture with GS SHOP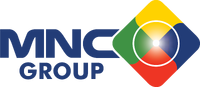 Community content is available under
CC-BY-SA
unless otherwise noted.