On-screen bugs
Special on-screen bugs
Idents
1997–1998
The original Footage of RTL Klub's 1997 "Fire Ident" can be seen on Hungarian Broadcasts from December 3, 1997.
Between 1997 and 1998, RTL Klub used many idents: the first ones ran during its test broadcasts in October 1997, the second ones ran until January 1998, and a blue and red identity until September that year.
1998–1999
RTL Klub rebranded for the third time in late September 1998. The idents featured shades of blue and yellow.
1999–2001
RTL Klub rebranded again in early September 1999. The idents consist of two elements (fire and water), with the eye motif being introduced for the first time.
2001–2003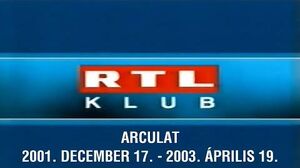 On 17 December 2001, RTL Klub adapted another new identity, designed by Dogfish and focuses on people which then zoom into their eyes.
2003–2005
Before these idents were introduced, three teasers featuring Naná (the mascot that appeared on most idents itself, usually walking and enclosed in a dark red circle) would air during commercial blocks from late March 2003 until the moment when these idents would be eventually introduced on April 19 that year. These idents sometimes featured short 2D and 3D animations involving Naná itself. This was the last identity package with the "colored" on-screen bug, the next package had it changed into transparent gray.
2005–2008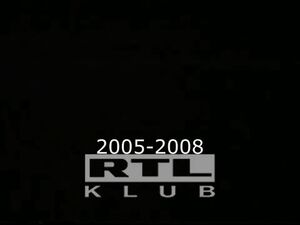 RTL Klub changed its graphics package once again, at 19:00 CET of 24 December 2005, just after the end of RTL Híradó that day. For the first time in its history, the logo bug stopped being colorful as it became light gray.
2008–2017
RTL Klub introduced a new graphics package on 1 June 2008 at 16:30 CET, just before a commercial break during a simulcast of a horse race. The package features the FF DIN Condensed typeface. (Its main competitor TV2, which introduced its current logo on 25 August that year, used the non-condensed version of FF DIN as its on-screen font from 2008 until 2020)
The idents were designed by the team of the Argentinian television channel Punga TV. They were consisted of concrete blocks flying across the screen, against a backdrop of Hungarian landmarks or the Hungarian countryside, until they eventually formed the letters RTL (with KLUB in a much smaller font below). On its first day, the 2005-2008 on-screen bug was retained, but it was changed to a lighter bug the next day, with the new appearing and disappearing "animations".
2017–present
To celebrate its twentieth anniversary, RTL Klub rebranded for the first time in nine years, on 2 October 2017 at 04:00 CET. This was a major overhaul for the channel as its old graphics package, which was dominated by grey and fluorescent colours, was replaced by a vibrant multicoloured graphics package.
The channel typeface is now League Spartan, which is similar to the classic Futura font. The logo bug was changed to light grey from white, which resembles, at some extent, the 2005-2008 one. The idents consist of various objects in close-up coming together and forming the RTL Klub logo, with RTL enclosed by a rectangle.
An initial set of eight idents was introduced in 2017, and another set of eight was released in September 2018.
2017 idents:
2018 idents: