This page only shows primary logo variants.
For other related logos and images, see: /Other
Contents

1994-2004
2004-2012
2012-present
1994–2004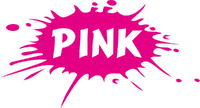 RTV Pink is a Serbian television network. It launched on September 16, 1994.
However, on September 16, 1994, the logo on-screen was white, almost square-sized, white, and with black lettering.
Until mid-2003 the logo's PINK wordmark was black, then it was changed to white around that time.
2004-2012
This logo premiered on February 12, 2004 on-screen (evidence on this exists), but could also be seen on credits after a basketball match aired on the channel that presumably occured on December 22, 2002. It was used on Pink M and Pink Plus, and Extra until May 2013. The Serbian version also used it until September 3, 2012.
This logo's wordmark was until 2017 used on teletext, and this logo as of 2016 is still used as news separator in scrolling text.
2012-present
RTV Pink's logo changed for the 2012-2013 season.
Community content is available under
CC-BY-SA
unless otherwise noted.