Radio InfoPro was a Romanian infotainment radio station, a concept that has combined music, information, and fun, owned by Pro TV SA. The radio station was launched on 1 December 2004, on 12 September 2010, Radio InfoPro was closed, and the frequencies were Radio InfoPro were broadcasted were replaced by Pro FM, while on some frequencies, the radio station was replaced by Digi FM 5 years later, on 11 November 2015.
InfoPro
2004–2009
Radio InfoPro was launched as InfoPro, on 1 December 2004.
Radio InfoPro
2009–2010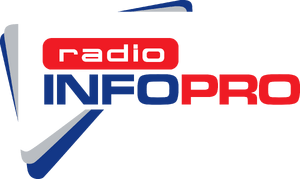 In 2009, InfoPro became Radio InfoPro.
Radio InfoPro was closed on 12 September 2010, and their frequencies where Radio InfoPro was broadcasted, were replaced with Pro FM.
In December 2014, Pro TV SA sold Radio InfoPro and its sister radio stations to Digi, almost a year later, Digi launched Digi FM on 11 November 2015 as a substitute, so Pro FM remains only on the frequencies that belonged to Radio InfoPro in 2010.