This page only shows primary logo variants.
For other related logos and images, see:
Radio La Zona is a musical radio station that plays genres related to Latin urban music, mainly reggaeton, electronic music and rap in its different variants. It was launched on October 28, 2011 to replace CPN Radio and Radio Amor (which currently operates via the internet) and its owner is the Grupo RPP , a conglomerate of the Delgado Nachtigall family, and it is another of the conglomerate's radios with national reach.
2011-2018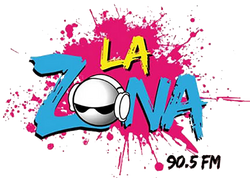 The first logo of this radio station was a spot of phosphorescent fuchsia colored paint that contains the name "LA ZONA" centered, in yellow and light blue respectively, shaded and in a graffiti-style typeface. The "O" in the name is represented by a white dial with black sunglasses and white headphones (possibly Phillips-branded) and looking up, known to many as "The Little Man" for its humanized look. Putting a little man listening to music as part of a radio logo is not a very new idea, a similar logo was used by the extinct radio station Radiomix (whose signal is currently occupied by the Lima signal of Radio Karibeña from the Chiclayan conglomerate Corporación Universal), but without glasses and smiling facial expression. Below, the frequency number of the one that operates in Lima in black and in the same style as the name.
2018-present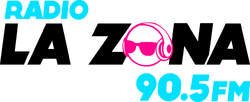 In July 2018 a substantial logo change was made for the first time.
The letters now become linear and lose the graffiti style to become a black sans serif font, the little man is now looking to the left and in an upright position, he also loses the appearance of a sphere to be a simple circle, he change the model of the headphones and lenses and the edge becomes fuchsia. Above and below the logo and on the left and right parts of the logo, respectively, the word "RADIO" with the new typography and the frequency number in Lima with the same characteristics, both in ice blue.
Community content is available under
CC-BY-SA
unless otherwise noted.