This page only shows primary logo variants.
For other related logos and images, see:
Contents

2004-2011
2011-2013
2013-present
Radio Oxígeno is a Peruvian musical radio station that mainly plays rock, pop, new age, rap, techno and reggae from the 70s, 80s, 90s, 2000s and 2010s launched on May 8, 2004 to replace the second incarnation of Radio Ke Buena.
It is owned by the Grupo RPP of the Delgado Nachtigall family and unlike other radios that play music from those times, this is the only one to date with a national scope.
2004-2011
The first logo of this radio station were two rectangles, one purple and the other black, in the purple part the word "Oxigeno" in white with the "O" and "g" cut at the ends with a cap of yellow color inside the "O", in the black part, the frequency number (102.1) in eighties typography with a yellow hood in the "0" and behind it all, the letters "fm" in Century Gothic and colored typography black.
2011-present
2011-2013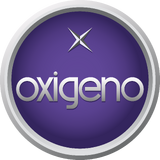 In September 2011, the radio completely changed its logo.
It now consists of a purple metallic-edged sphere, above it a metallic four-pointed star, and below it, the word "oxigeno" in a distinctive silver font. This change coincided with the change that her sister radio station Studio 92 was experiencing that month.
2013-present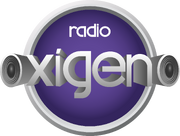 On January 5, 2013, another re-branding was done without much change in the appearance of the logo.
Now the letters "oxígeno" are in 3D, with a pair of speakers in both "O" and a tilde in the "i", above the star is replaced by the word "radio" in white. This change coincides with the change made by its sister radio station Studio 92 on that same day.
Community content is available under
CC-BY-SA
unless otherwise noted.