This page only shows primary logo variants.
For other related logos and images, see:
Contents

2008–2010
2010–2016
2016–present
2008–2010
Rai 4 (pronounced Rai Quattro) was launched in July 14, 2008. Because it was a digital channel unlike Rai 1, Rai 2, and Rai 3, its logo didn't follow the logo styles of the three channels and instead had a logo consisting of two squares, one with the butterfly symbol of Rai and the number 4.
This logo style (as well as those of Rai's other digital channels such as Rai Storia, Rai Gulp and Rai Scuola) is where Rai's current logo and brand identity was derived.
2010–2016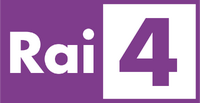 On May 18, 2010, Rai introduced a new corporate logo and overhauled the logos of its channels as part of its new, unified brand identity and platform and with the switch off of the analog TV transmission in Italy (leaving digital TV transmission as the only existing TV transmission in Italy). The graphics on Rai 4 were adapted by simply replacing the "butterfly" with the new wordmark.
The logo changed its color from pink/magenta to purple but still appeared in the former color in the bumpers which slightly changed in line with Rai's corporate rebranding in November of 2010 that appeared in 16:9 instead of their predecessors.
2016–present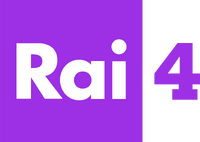 On September 12, 2016, Rai 4, along with Rai 1, Rai 2, and Rai 3, redesigned its logo and launched a new graphics package. The new design of Rai 4's logo maintains Rai's corporate logo, drops the second square at the right and gives an entirely new look for the number 4. The channel's iconic purple color was maintained, albeit in a different shade.
Community content is available under
CC-BY-SA
unless otherwise noted.