Not to be confused with Realme.
Xiaomi Hongmi (红米) / Xiaomi Redmi
2014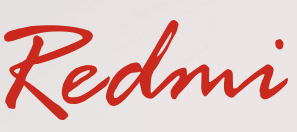 This logo was only used in Redmi 1S smartphone from Xiaomi and this is one of their first phones to be release outside China while they adopt the name Redmi for global market instead of its original Chinese name, Hongmi (红米), which it means "Red Rice". This logo has a Chinese variant.
Redmi by Xiaomi
2019–present
In January 2019, Xiaomi spun off the Redmi line into a new sub-brand to compete against Oppo's already spun off brand called Realme and Huawei's Honor brand. However, the Mi logo still appears on the packaging of their phone. Xiaomi adopted the Redmi brand in Mainland China, Hong Kong and Macau but they still kept its original Chinese name (红米).
External Links
Community content is available under
CC-BY-SA
unless otherwise noted.